Person
Business
Remittance
Account
Billing
Rate alert
Help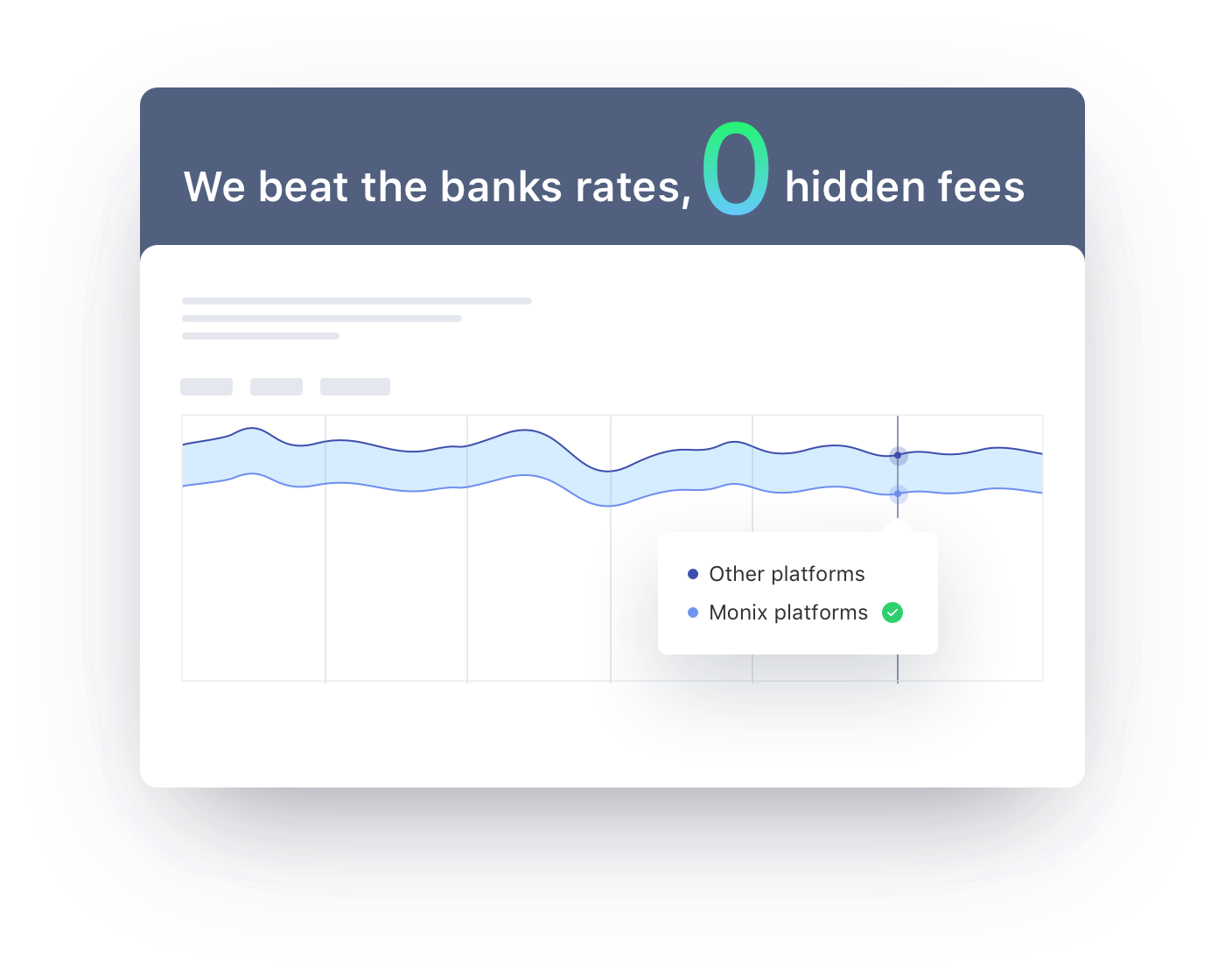 Ecommerce
Financial technology
Monix
Business
Developers
Build your own financial ecosystem with one single API
Global account
Global collection
International payment
Foreign exchange
Account
Monix supports pay and receives 60+ currencies.
There is zero handling charge for the transfer between Monix accounts.
Capital security is more guaranteed.
Collection
Opening an account quickly and collect fastly.
Capital security is more guaranteed.
Payment
More efficient international payment network.
Simplify the currency exchange process by paying in the supplier's preferred way.
Conversion
Low-cost and efficient international payment network.
Your remittance progress can be tracked in real-time.
Match currency exchange and payment options according to your needs.
Collocate products
Wallet
Wallet
HKD
USD
Wallet
Top up
Wallet
Wallet
Pay
Collection
Exchange
Payment
With our integrated payment technology, you can expand your business globally.
Whether your business will enter a new international market to settle funds with global merchants or you release new financial products in your ecological system, our API integration package can automate your payment procedure so you can be devoted to expanding your business scale.
Developers first
Monix is devoted to providing developers simple and one-step integration API products so that you are able to perform efficient foreign exchange transactions.
Powerful product capacity
The key to realizing all functions of a business is financial procedure automation - to save time for a team and provide better clients' experience.
Supports companies of different scales
It can unlock functions at enterprise level easily and no complexity is needed - for example, our intelligent automatic route payment technology.
Bulid your financial ecological system
Monix has abundant and powerful functionality so you can make free collocations according to your needs and customize your exclusive solutions.
Reduce exchange rate risks and labor costs
With 24/7 support for exchange rate queries and transaction order placement, it can effectively reduce the complexity of managing foreign exchange risks. At the same time, it can reduce data input errors caused by human handling.
Security
Since founding, we pride ourselves in fund and system security.
AFSL
Financial security
Supervision compliance
Data security
Monix is the first Chinese payment company to obtain a financial license in Australia. Our license number is 495025.
Monix complies with Australia's highest level of capital regulatory requirements
Monix's core systems meet ASIC requirements, and adheres to anti-money laundering and counter-terrorist financing measures.
Omipay is certified by PCI DSS, which is the highest level of security in the payment services industry and at the same level of security of local banks.
Fully-integrated cross-border payment package
We integrate everything for the requirements of the website and app to receive payments and send them around the world.
Global Account API
Manage local accounts with over 60 currencies.
Learn more
Global collection API
Receive payments from global clients, with rapid and flexible transactions.
Learn more
International payment API
Provide cost-effective international and local payments with Monix's 900+ global payment networks.
Learn more
Foreign exchange API
Obtain FX prices, build a workflow and manage risks.
Learn more
Ready to get started?
Create an account now and start collect and payment abroad. You can also contact us to design a custom package for your company.
Get started
Contact sales
API document
Monix' database can provide languages ranging from Java to .Net.
API reference